Lego People WikiaEdit
The 100 Lego People that compete in games such as Survivor, Dog Eat Dog, Circle, the Hunger Games, and other fun games!
What Will I Find?Edit
On this Wikia, you will find 100 unique Lego characters that each persue their own personality. Some are known for winning challenges, while some are known for being mischievous. There is also a Hall of Fame for the players who are infamous for their playing style, or who won the most challenges.
List of Lego PeopleEdit
Latest activity
Edit
Photos and videos are a great way to add visuals to your wiki. Find videos about your topic by exploring Fandom's Video Library.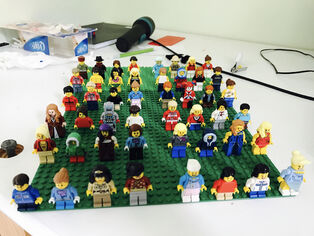 Ad blocker interference detected!
Wikia is a free-to-use site that makes money from advertising. We have a modified experience for viewers using ad blockers

Wikia is not accessible if you've made further modifications. Remove the custom ad blocker rule(s) and the page will load as expected.